Protector Downdraft Fingerprint Powder Stations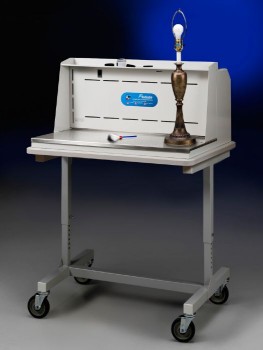 Protector Downdraft Powder Stations keep users safe by containing fingerprint powders during processing. The open-sided open-top workstation provides unrestricted operator movement and accommodates oversized evidence.

Available in 2' and 3' widths two or more workstations may be placed side-by-side to achieve an unlimited number of width combinations. An optional Transition Connector mounts between two downdraft powder hoods for a secure fit and continuous work surface.
More Info
Product Name
Retail Price
Our Price


More Info

2' Protector Downdraft Powder Station

Catalog id : 3410000

LabConco Brand Product
$2,675.00
$2,273.75


More Info

3' Protector Downdraft Powder Station

Catalog id : 3410001

LabConco Brand Product
$3,255.00
$2,766.75


More Info

2' Protector Downdraft Powder Station

Catalog id : 3410020

LabConco Brand Product
$2,675.00
$2,273.75


More Info

3' Protector Downdraft Powder Station

Catalog id : 3410021

LabConco Brand Product
$3,255.00
$2,766.75


More Info

2' Protector Downdraft Powder Station

Catalog id : 3410022

LabConco Brand Product
$2,675.00
$2,273.75


More Info

3' Protector Downdraft Powder Station

Catalog id : 3410023

LabConco Brand Product
$3,255.00
$2,766.75


More Info

2' Protector Downdraft Powder Station

Catalog id : 3410024

LabConco Brand Product
$2,675.00
$2,273.75


More Info

3' Protector Downdraft Powder Station

Catalog id : 3410025

LabConco Brand Product
$3,255.00
$2,766.75


More Info

Replacement Prefilter

Catalog id : 3768903

LabConco Brand Product
$41.25
$35.06